Our Story
Our Love Story
It was August 2012, Matt had just finished law school and moved back to his hometown, Great Falls, MT. Emily, looking for change, moved from California to Montana around the same time where she moved in with Shelby Robinson, an old friend from her early college days in Bozeman.
We first met at the infamous Montana rivalry Cat-Griz football game in Missoula, Montana. While this first meeting is truly hilarious, the full story will only be revealed to those who ask (with a margarita hand) in Mexico! Needless to say, our romance did not exactly start blossoming at this point.
Thankfully, God had a plan, and in December 2012, we bumped into each other again. This time at a favorite local watering h0le where surfing became the topic of our first good conversation. (Editor's Note: while traveling through Costa Rica the next year together, it became abundantly obvious that neither of us are actually good at surfing, but thankfully this common ground allowed us to break whatever ice lingered from our Missoula introduction). After several hours of discussing waves ridden, barrels cleared, and other fictional triumphs, Emily revealed that she planned to spend New Year's at Shelby's cabin near Showdown ski area.
Now Emily might say that Matt "followed" her up to Showdown after uncovering her plans hoping to "accidentally" bump into her. And while it is true that on this particular New Year's day, Matt forced some friends to go skiing. And that once up there, Matt's friends could not figure out why he spent the majority of his time in the lodge rather than on the hill. However, there are lots of ins and outs, lots of what have you's, and the exact details of this serendipitous happenstance are, in truth, neither here nor there.
Regardless, we bumped into each other. At this point, Emily was smitten so even Matt could not screw it up, and a future get-together was arranged in the best "get to know somebody" method possible - demonstrating karaoke inabilities. Shortly after hearing Emily's voice, which is somewhere between Cher and Chernobyl, Matt asked Emily to be his girlfriend and by Valentines day 2013, we were dating. We fell in love that Summer, and by the next Fall, we bought a puppy together. In April of 2014, we moved in together. In March of 2016 we bought a house together. And on December 3, 2016, we became engaged at Matt's family cabin.
During our 4+ years together, we have traveled across this country, and several others, logging innumerable adventures. Emily has been through three different jobs, graduated from dental hygiene school, and began a new career. Matt has come into his own as a lawyer while starting a property LLC. We have raised two puppies, lost a great dog, renovated two homes, and experienced enough to be able to thank God without regret. Throughout the good times and the bad, we have found deep satisfying love, happiness, and respect for one another.
We are so excited to continue our love story by getting married, and we sincerely hope that you will be there to celebrate and share this moment with us. Everyone reading this has already contributed so much to our love and to our lives and we would be honored by your presence at our wedding. Thank you for taking an interest in our love story, but more importantly, thank you for your contribution to it.
Love,
Emily & Matt.
The Wedding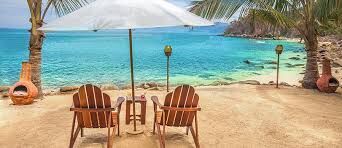 Saturday, April 7, 2018
4:30 PM
Attire: Beach Formal
Ceremony and Reception
Las Caletas
Puerto Vallarta - Manzanillo, Jal., Mexico
The wedding will be held in Las Caletas - a private beach - close to Nuevo Vallarta, Mexico. Transportation from hotel(s) to the port will be provided via bus. A private catamaran will pick all guests up from the port at 4:45 p.m. and will arrive at the beach at 5:45 p.m. Refreshments will be provided on the catamaran.
The ceremony will begin at 6:15 p.m. followed by a cocktail hour and dinner at 7:30 p.m. The dinner will be buffet style with multiple options and open bar. The reception will follow at Las Caletas which will also include open bar. A return catamaran will pick all guests up at 10:30 p.m. and return to the port where buses will be waiting to take guests back to their hotels.
*Due to venue restrictions, the Bride and Groom politely inform all guests that this is an adult only event.
Wedding Party
Kate Heninger - Maid of Honor
Emily's older sister and life-long best friend. From collecting taxes to share a bedroom, endless makeovers, and all the countless other big sister responsibilities, Kate did it right. Emily is so excited to have her sister next to her on the big day! Kate currently lives in Santa Ana, CA and works as a project manager for Servco Construction.
MacKenzie Carlson - Bridesmaid
A small-town Montana girl, MacKenzie & Emily met through study groups in college. Together with Jodi (also a Bridesmaid), these three supported and encouraged each other through Dental Hygiene school forming a life-long friendship! MacKenzie works as a Dental Hygienist in Great Falls, MT.
Jodi Bicknell - Bridesmaid
Jodi, MacKenzie & Emily met as study partners through their anatomy & physiology classes. These three musketeers became fast-friends and continued on to go through the Dental Hygiene program together! Jodi works as a Dental Hygienist in Great Falls, MT.
Ashleigh Mendez - Bridesmaid
Ashleigh & Emily met while working at Albertsons in Santa Barbara, CA. They shared the same horrible sense of humor and love for Harry Potter. In the short time they spent together, these two built an incredible friendship and even founded the original Isla Vista Scooter Gang. Ashleigh teaches high-school English and coaches girls softball in Valencia, CA.
Amanda Heninger - Bridesmaid
The newest & best addition to the Heninger family, Amanda & Emily's brother, Wesley, got married in October 2016. There is no better friend than a sister and I am lucky enough to have Amanda as mine! Amanda works as an Event Organizer in Long Beach, CA.
Jessica Hoogland - Bridesmaid
Cousins and life-long friends, these two (along with their sisters), spent countless hours putting together American Girl plays, directing cousins church and sneaking Chardonnay at Thanksgiving! Jessica and her husband, McClain, are soon-to-be parents to a sweet baby boy in Chicago, IL.
Kinsey Seidel - Bridesmaid
Cousin and co-instigator to the aforementioned family adventures with Jessica (cousin), and Kate (Em's sister). Endless childhood memories, tons of uncontrolled laughter and so much love in this family. While time and distance have increased over these last few years, these four cousins can always pick up right where they left off. Kinsey and her husband, Mark, recently moved to Santa Monica, CA where Kinsey is a finance associate with Uber.
Michael Murphy - Best Man
Matt's older brother, and the Bride and Groom's former roommate. An all-american at life, with a heart of gold. Known throughout the northern territories as "Northern Pike Mike."
Tommy Murphy - Best Man
The youngest Murphy brother, but certainly not the least. Here's a man for ya! He's half bear, half gator, and tougher than an earthquake. He can out jump, out run, throw down, drag out and whip any man in old Montuck. A cinnamon bear at heart - just don't try to steal his honey.
Jesse Froehling - Groomsman/Officiant
One of Matt's best friends and "cubemate" during Law School. A heartfelt adventure junkie and an instant friend to anyone he meets. He is often confused for Mel Gibson, which was a good thing until 2010. Since then this man has kept his head on a swivel, his heart on his sleeve, and his top knot tight.
Jake Freund - Groomsman
Matt's oldest friend. Jake loved Matt so much he married a Murphy and tried to change his name. A truly accomplished builder (and snakewrangler), Jake has fixed more of Matt's mistakes than he cares to remember. He is loyal, intelligent, and extremely curly. When the going gets tough, you will see this red blooded patriot with his hand over his heart.
Shawn Christofferson - Groomsman
One of Matt's oldest and best friends. Currently referred to by his subjects (which are numerous) as The Don. This man is known from coast to coast like butter and toast. Shawn has pulled his weight (and Matt's) in scraps o plenty over the years. Matt and Shawn's paths have crossed in both the best, and the stupidest, of times. Shawn spends his free time training for his professional tennis career.
Kyle Cragun - Groomsman/Processional Musician
One of Matt's best friends and roommate in Law School. Wolfbone McTitan, cream of the corn, laugher of the lords laugh, desirer of cheese, master of the warlock and keeper of the egg. An artist and bard of the highest order. This man has stared into the abyss and indeed gone over. His greatest accomplishment: runner up in the ultimate best friend friendship test.
Justin Bryan - Groomsman
One of Matt's best friends and roommate in Law School. Juice will audit you, brief you, barrister you, and embarrass you in a tea race all before his morning chai (extra soy) latte. He once fishhooked Justin Trudeau and still scored Canadian citizenship. If you see him in the water, don't worry, he's not being attacked by a shark, that's just how he swims.
Lonnie Fulp - Groomsman
One of Matt's oldest and best friends. Lonnie's continuing existence is proof that there is a God, and that he has a sense of humor. This sweet prince has jumped out of airplanes (and windows), battled angry hordes (and parking meters), slept outside on moonless nights (and in crowded bar bathrooms), claimed title as the world's highest paid KFC employee, sired two caucablasians, and consistently and enthusiastically lowered the bar for those around him. His tattoos tell his story, but in truth, Lonnie's not actually sorry ... about anything ... ever.
Wesley Heninger - Groomsman
Emily's brother, and soon to be Matt's.When Matt and Wesley first met in Montana in 2013 it became immediately obvious that Matt was going to get along with Emily's family. Matt and Wes became fast friends: Wes came to Montana and learned how to hunt, and Matt learned the difference between "IPA" and Pliny the Elder. Wes discovered he is not a fan of underground caves, and Matt discovered what a heart attack feels like when dropping the bride's ring at Wes' wedding. Although admittedly a seasoned sailor himself, Matt will be taking over/under bets on Wes' survival as an esteemed member of this wedding party.